Market Theatre - A Public Reading of an Unproduced ScreenPlay about the Deal of Walt Disney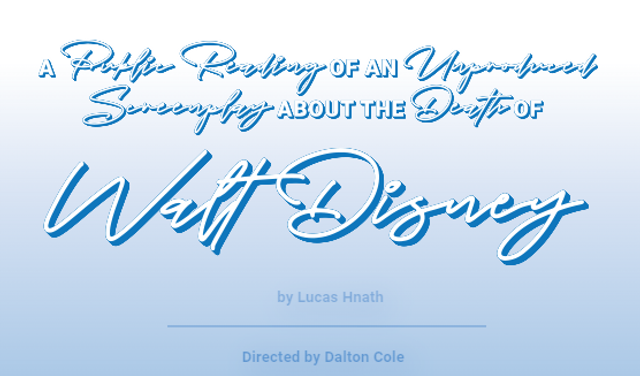 Description
SEPT. 8-12, 2022

In September 2022, we're bringing another exceptionally long title to the stage with A Public Reading of an Unproduced Screenplay about the Death of Walt Disney. Ever since our team experienced this play at the Southeastern Theatre Conference in February 2020, we've been ready to put this story on our stage! Theatre Mania called it "a blood-pumping and often hilarious evening of theater," while Time Out New York says "nothing that ever came out of the Magic Kingdom was ever this animated." What a description!


What can you expect from this show? "Tonight, Walt is going to read you a screenplay he wrote. It's about his last days on earth. It's about a city he's going to build that's going to change the world. And it's about his brother. It's about everyone who loves him so much, and it's about how sad they're going to be when he's gone. Right?"
A dark comedy, staged reading, and peek-behind-the-curtain all rolled into one, 
A Public Reading...
 is a fascinating story about the life and death of Walt Disney—including all of the untold details.
A PUBLIC READING OF AN UNPRODUCED SCREENPLAY ABOUT THE DEATH OF WALT DISNEY
 is presented by special arrangement with Dramatists Play Service.
The Market Theatre Company
110 W Federal Street, Suite 6, Suite 6, Anderson, SC 29625
12:01 AM EDT
to 11:59 PM EDT
Private:No
RSVP Required:No